ISCM WORLD MUSIC DAYS 2000 LUXEMBOURG

SEPTEMBER 29TH - OCTOBER 8TH 2000




organised by



(ISCM Luxembourg Section)

Information: info@worldmusicdays.com
---
Kilian Schwoon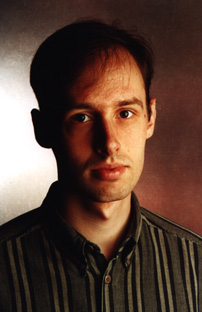 ---

Kilian Schwoon was born in 1972 in Hannover. He studied composition under Nicolaus A.
Huber and electronic composition under Dirk Reith and Thomas Neuhaus at the Folkwang
Academy in Essen and, in addition, from 1992 to 1993 under Walter Zimmermann. In 1997
he completed his Finals with distinction. Kilian Schwoon took part in courses in Darmstadt
(1994/96) and in Yamaguchi (Japan, Akiyoshidai Festival 1995). From 1997 to 1999 he
continued his studies in Florence under Luciano Berio and at his Centre for Live-Electronics
"Tempo Reale". He received scholarships from the "Studienstiftung des deutschen Volkes"
and the "DAAD". His composition for orchestra with electronics Kodierte Räume was
awarded the "Folkwangpreis 1997" and was premiered under Lothar Zagrosek.


Implantate

My first experiments in the field of live electronics led to this piece, in which I am focusing on
the possibilities of spectral manipulations: inside the sound the electronic means are used to
create movements that prepare or continue the melodic and rhythmic structures on the sound surface.
Perhaps these "artificial" elements, being injected into living musical organisms, can be more
than plastic surgery and open new perspectives on what apparently seems familiar to us.

---