ISCM WORLD MUSIC DAYS 2000 LUXEMBOURG

SEPTEMBER 29TH - OCTOBER 8TH 2000




organised by



(ISCM Luxembourg Section)

Information: info@worldmusicdays.com
---
Hilda Paredes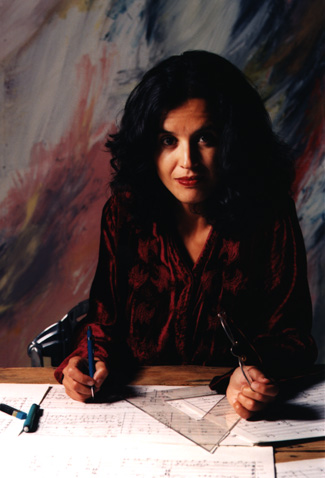 ---

Hilda Paredes was born in Mexico, and arrived in London in 1979, to study flute and
composition. She was a student in the composition master class at Dartington Summer
School with Peter Maxwell Davies. She graduated from the Guildhall School of Music
and was awarded a Master of Arts at City University, London.
From 1990 she was composition professor at the University of Mexico and producer of
a radio show specialized on New Music. She has also published several articles on
music in different music magazines and newspapers in Mexico City.
She has been recipient of important awards in Great Britain and in Mexico, such as
the Music for Dance Award and the Holst Foundation Award for composers.
She now lives in London and teaches composition at Manchester University.
Hilda Paredes has been commissioned by soloists, ensembles and orchestras in Great
Britain, France, Australia, Mexico and the USA. She has written music for voice, for
dance, chamber and orchestral works, music-theatre and a chamber opera The Seventh
Seed, which was sponsored by the Arts Council of Great Britain and has recently been
recorded for Mode Records, New York.


U YU T'AN

U YU T'AN treats the instruments as characters of a play. The composer first thought
of each one of them separately. The interaction between them gave the idea of the shape
of the piece and the title. U YU T'AN is an expression in the Mayan language of Yucatan
in Mexico, and can be translated as "listen how they talk", or "listen to their language".
The piece is written in four sections. The first violin introduces the material of the
opening section and sets up an interaction with the rest of the ensemble. Against a
texture of harmonics, the viola introduces new slow moving and more lyrical material,
which becomes the main texture of the following section. The last section of the piece
is introduced by the cello and it has a very brilliant and rhythmic character, derived
from the composer's interest in the music of Northern India.
U YU T'AN was commissioned by "Octobre en Normandie 1998", for the Arditti String Quartet
which it is dedicated to.
---