ISCM WORLD MUSIC DAYS 2000 LUXEMBOURG

SEPTEMBER 29TH - OCTOBER 8TH 2000




organised by



(ISCM Luxembourg Section)

Information: info@worldmusicdays.com
---
Rashid Kalimoullin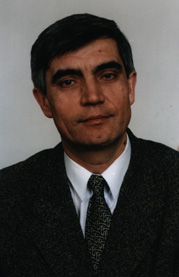 ---

Rashid Kalimoullin was born in 1957 in Zelenodolsk (Tatarstan). In 1985 he graduated
from the Kazan State Conservatory and worked there on probation until 1987.
Rashid Kalimoullin is the chairman of the Union of Composers of Tatarstan and the
secretary of the Union of Composers of Russia. He is also the Director of the
"International festival of Contemporary Music Europe - Asia" in Kazan and the
head of the Department of Composition of Kazan Conservatory.
His compositions are widely performed at the festivals of contemporary art and avant-garde
in Moscow, Saint Petersburg, Minsk, Odessa, as well as in Belorussia, Moldova, Holland,
Poland, Germany, Japan and the USA. In 1987 Rashid Kalimoullin was awarded the First
Prize of "Vienna - Modern - Master" international competition for his Sonata for piano
No. 2, and he is a winner of the Shostakovich Award and many international contests.
A lot of his compositions during recent years have been commissions by famous musicians
from all over the world. The ensembles "Musica Viva", "Singus" (USA), Quartet "World
Harmony" (Germany), and the State Quartet of Tatarstan include Kalimoullin's compositions
into their repertoire.


String Quartet No. 4

The quartet is a single-movement piece with through-composed dramatic and intonation
development, full of improvisation. The initial intonation of "Sakura", a Japanese folk
song, is a peculiar leitmotiv of the quartet, close to the Tatar folk songs in its image
and tone. The theme is as if dissolved in a musical space, penetrating the whole
composition with its invisible threads.
---