ISCM WORLD MUSIC DAYS 2000 LUXEMBOURG

SEPTEMBER 29TH - OCTOBER 8TH 2000




organised by



(ISCM Luxembourg Section)

Information: info@worldmusicdays.com
---
Continuum
(Photo:Steve J. Sherman)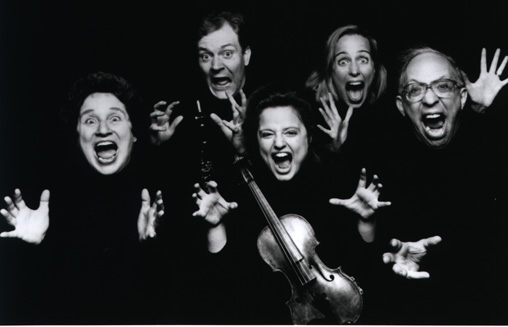 ---
After a recent CONTINUUM concert the New York Times wrote: Simply put, there is no
musical organization in New York that produces more intellectually enticing or more
viscerally satisfying programs than Continuum! Year after year, its explorations in
20th-century repertory prove to be not only unusual and unexpected but also important
and enduring. This ensemble has a long history of acting in behalf of composers whom
others discover years or decades later.

Winner of the prestigious Siemens International Prize for distinguished services to
music and four ASCAP (Chamber Music America Awards for Adventuresome Programming),
New-York based CONTINUUM has been performing for more than three decades. Its name
embodies the philosophy that new and old music form an unbroken tradition.

Aiming to expand the audience for this century's music, CONTINUUM has performed
throughout the United States, including appearances at the Kennedy Centre, the Library
of Congress, at colleges and community series throughout the United States and Puerto
Rico, in 19 tours to Europe and three to Latin America. In 1997, CONTINUUM performed
at World Music Days in Seoul, Korea. The ensemble played in Mexico City's "Camarissima"
Festival, in September 1998, and made its French debut in Radio France's "Présences"
festival in February 1999, its Scandinavian debut at the Numus Festival, Denmark, and
its Central Asian debut at the Ilkhom Festival of Contemporary Music in Tashkent,
Uzbekistan. In the spring of 1999 it was ensemble-in-residence at the College of William
and Mary in Williamsburg, Virginia. CBS-TV, educational television, National Public
Radio, the Voice of America, and European networks have broadcast CONTINUUM events.
In 2000 it returned to Uzbekistan and played in the Roaring Hooves festival in Mongolia.

---