ISCM WORLD MUSIC DAYS 2000 LUXEMBOURG

SEPTEMBER 29TH - OCTOBER 8TH 2000




organised by



(ISCM Luxembourg Section)

Information: info@worldmusicdays.com
---
Alberto Colla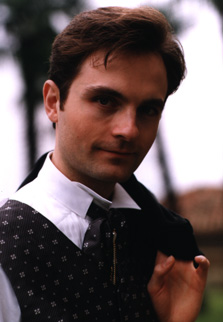 ---
Born in Alessandria, Italy, in 1968, he graduated in composition with Carlo Mosso and Azio
Corghi, in piano, in choral music and chorus conducting in Alessandria, Parma and at the
" Santa Cecilia's Academy " in Rome where he gained the SIAE scholarship. Colla is one of
the most honoured young Italian composers. From 1996 to 1999 he has received numerous
awards. In a few years, he produced an impressively large body of orchestral works. His
compositions were played by important orchestras and selected by festivals in all Europe and
Russia, recorded and broadcast by radios and televisions in Europe, Israel, Norway, USA.


Proverbs of Hell

The title Proverbs of hell and the text of this composition are extracted from The marriage of
heaven and hell composed by William Blake about 1790. Each interposition of the soprano in the
instrumental texture announces a different proverb and changes the direction of musical aims.
Blake's text is very symbolic, metaphorical, sometimes obscure. But the Proverbs of hell are
cruelly or ironically realistic, and the approach of poetic images and crude reality is sometimes
monstrous, infernal.

Often, the monster, in fancy, is made by the composition of anatomically irreconcilable parts
of different animals. In the same way, with the polystylism in art, the fusion of different
styles and techniques historically and geographically irreconcilable may be very natural. This
polymorphism in music (constructed by using quotations and different styles) is not a pure
Prometheic creation, just tragic and monstrous. In fact, polymorphism in music arises from
aesthetic and expressive needs and manifests itself both with temporal and geographic mixing.

In the XIIIth Century this proverbs must look, for hypocrisy, really infernal, but today they can
appear, sometimes, really wise. Are we perhaps living in the hell of XIIIth Century? Joke or evolution...

---