ISCM WORLD MUSIC DAYS 2000 LUXEMBOURG

SEPTEMBER 29TH - OCTOBER 8TH 2000




organised by



(ISCM Luxembourg Section)

Information: info@worldmusicdays.com
---
Diana Arismendi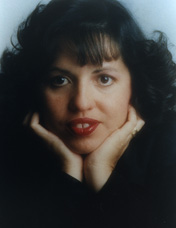 ---
Diana Arsimendi was born in Caracas in 1962. She has become very well known in the last
few years and her works have been performed in many concert halls and festivals in her
native Venezuela as well as in Europe and the United States. She has written orchestra and
choral works, chamber music, concertos, pieces for solo and opera as well as electronic
music. She holds a degree in composition and Latin-American music from the Catholic
University of America in Washington, D.C., and has studied with the eminent Japanese
composer Yoshisha Taira at the "Ecole Normale de Musique" in Paris. She currently teaches
composition at the Simon Bolivar University in Caracas. Arsimendi is very active as a
composer and conducts research into Venezuelan and Latin-American academic music.


Tres Noches sin Luna

The piece was composed in the very short time of three days; this is quite exceptional
in the output of an artist who composes and meditates her works slowly and the work marks
a highpoint in her career. It is in three movements and encloses texts by the American
poet E. E. Cummings as well as gestures, physical expression and spatial movement. Full
of new ideas, the work opened up a new creative stage which melody acquires a special relevance.

---