ISCM WORLD MUSIC DAYS 2000 LUXEMBOURG

SEPTEMBER 29TH - OCTOBER 8TH 2000




organised by



(ISCM Luxembourg Section)

Information: info@worldmusicdays.com
---
Arditti String Quartet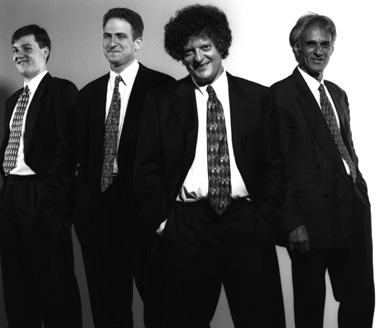 ---
The Arditti Quartet enjoys a worldwide reputation for their spirited and technically refined
interpretations of contemporary and early 20th century music. Several hundred string quartets
have been written for the ensemble since its foundation by first violinist Irvine Arditti in
1974. These works have left a permanent mark on the 20th century repertoire and have given
the Arditti Quartet a firm place in music history. World premieres of quartets by composers
such as Birtwistle, Cage, Carter, Dillon, Ferneyhough, Gubaidulina, Kagel, Kurtag, Ligeti,
Nancarrow, Rihm, Stockhausen and Xenakis show the wide range of music in the Arditti
Quartet's repertoire.

The ensemble believes that close collaboration with composers is vital to the process of
interpreting modern music and therefore attempts to work with every composer whose music
it plays. The players' commitment to educational work is indicated by their master classes and
workshops for young performers and composers all over the world. From 1982 to 1996 the
quartet's members were resident string tutors at the Darmstadt Summer Courses for New
Music.

The Arditti Quartet's extensive discography features over 100 CDs. 36 discs have so far been
released as part of the ensemble's continuing series on the French label Montaigne Audivis.
The series presents numerous contemporary composer features as well as the first digital
recording of the complete Second Viennese School's string quartet music. The most recent
disc presents a recording of Stockhausen's infamous Helicopter Quartet.

Over the past 25 years, the ensemble has received many prizes for its work. Most recently it
was awarded the prestigious Ernst von Siemens Music Prize for life time achievement (June
1999) and – for their CD of Elliot Carter's music – the Gramophone Award for the best
recording of contemporary chamber music (October 1999).

In the year 2000 the Arditti Quartet will go on tour in the US, Hong Kong, Japan and South
America, in addition to their extensive concert schedule in Europe.

---